Mango Drive Fundraiser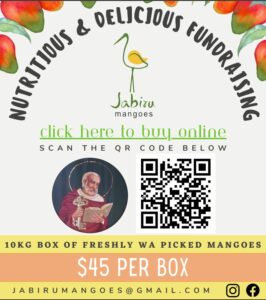 Buy a 10 Kg box of fresh delicious Kimberley Mangoes for only $45 and help support our Parish Fundraiser.
Parish has cap on number of orders which can be taken now until cut off early-October or when cap is reached.
Just go to the safe link below  OR  put your order and pay at the Parish Office [Cash or Eftpos]
You may want to share with family but once you taste them you will wish you bought them all for yourself.
They arrive green and will ripen over a couple of weeks.
They can be eaten fresh or be frozen, made into a salad or smoothie.
Delivery is between late November and December.
You will receive an email for when to pick-up from Parish.
https://form.jotform.com/232428527857870